No matter what kind of business you are involved in you have to develop
your marketing skills to stay in the game or go out of business
You have to develop a customer base and deliver a good product or
service to get those customers to refer people to you as well.
Your business model will look like

The above model implies that you source or manufacture a product that
you have to initially finance to bring to the market. You have to advertise
that product to generate sales. You have to collect the retail price of
the product and also handle warrantees and shipping as well as
your marketing and production.
What Can you Do If Your Resources are Limited?
You Can Promote a Manufacturers or Retailers products for Commission
A Business Broker cuts a commission deal with the supplier
You register with that broker
That broker provides you with Advertising banners that you place on your website
Interested parties clicking on that banner go to the suppliers web site.
If an order is generated you get paid the agreed commission on that order by the broker
An example of such a banner is below
An Alternative Affiliate Business Model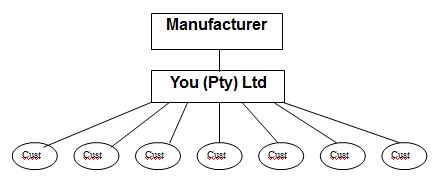 You cut a deal with a manufacturer – You bring your customers to the manufacturer.

The manufacturer handles the sales order shipping, warrantees and
collects the money. Wrap all activity up at the end of the month and the
manufacture pays you a share of the profits your customers generate.
This is similar to sales rep but not quite! Like an insurance broker
you bring the customer base to the insurer but you own the customer base.
The insurer pays a commission based on the premiums collected in the month.
Now, how could this work if actual products were bought?
Your customer orders what he needs direct from the manufacturer.
The manufacturer has a system to track the purchase an determine
the profit generated to pay you on the month's business.
There is an Affiliate Program managed by Clickbank.com.
A Manufacturer or Wholesaler registers their product with Clickbank.
On the Click bank website they offer their product.
The manufacturer does all the product handling, sales ect.
They offer you commissions as high as 50% of the retail price
to drive customers to buy their product .
Clickbank tracks all sales and pays the commissions
This is great for sales and you will have to run advertising campaigns

There are Alternative Affiliate Deals
What about Customer referrals? What if these are tracked too?
Your customer can also earn a profit share on his referrals and so will you!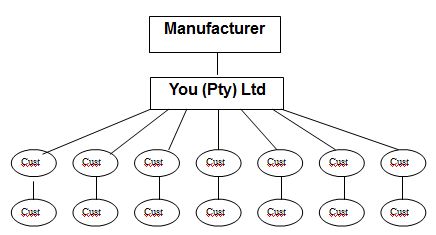 What if this referral system is unlimited?
It will mean that your profit potential is also unlimited too.
Marketing takes work!
Are you game to learn new skills to develop your profit share?
Well there is such a deal to be exploited.
Want to know more let's talk!